Technical Support

Pre-sales consulting
To provide users with a live demonstration of products and technical advice

Sales support
Professionals guide the whole project to ensure the quality

After-sales training
To provide free calibration service and training
After-sales Service──promise
We are committed to providing the customers with a quick, efficient, professional and high-quality after-sales service.
Warranty
Receiving products within fifteen (15) days, purchaser must notify Guide Sensmart of discovering of any apparent defect in materials or workmanship and can replace the product after the confirmation of Guide Sensmart's After-sales. Receiving products within one year, purchaser can enjoy free maintenance service of the non-artificial damage after the confirmation of Guide Sensmart's After-sales. Notice that the warranty period of batteries, chargers, wire and other accessories is 6 months. Except the above situations, purchaser can get pay-needed maintenance service.
Guarantee range
Any product bought from Guide Sensmart company, the authorized distributors and official stores, can enjoy replacement service, free warranty and paid maintenance services with the sale contrast or receipt.
After-sales response
After-sales service implements the "013 quick response" policy, 0 means that we will give a response in 8 hours on that day, 1 means that we will give the initial analysis in a working day, 3 means that we will provide a preliminary solution within 3 days.
Free extended warranty
We carry out "1 +1 principle" for products under warranty , that is, all products has 1 year warranty , and it can be extended for 1 more year after registration on Guide Sensmart's official website within 3 months. You can register immediately to enjoy free extended warranty.(Note: This warranty principle is not applied to MobIR Air)
After-sales Process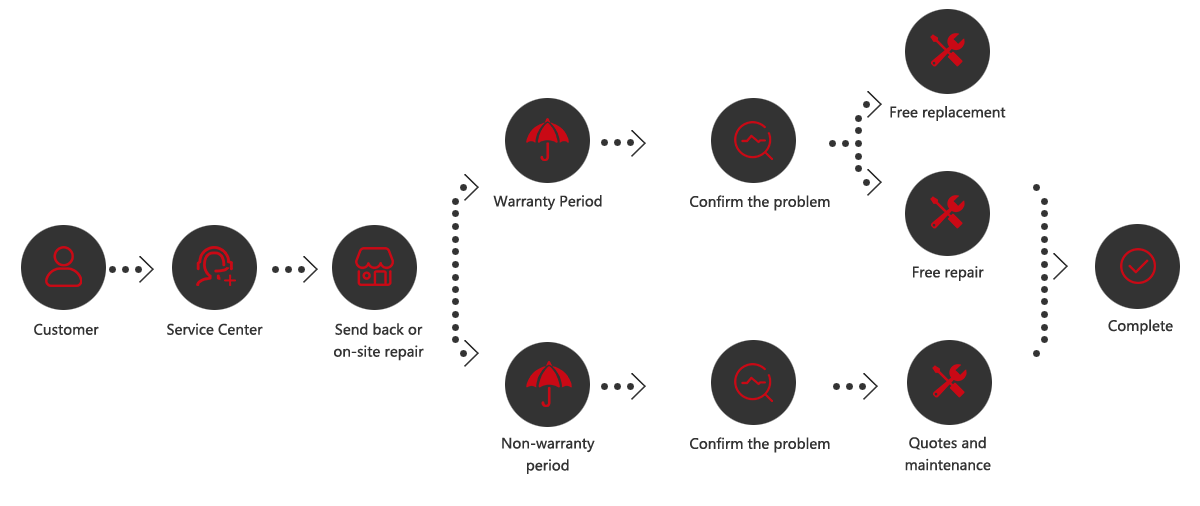 Download
IR Fever Warning Systems
Handheld Thermal Cameras
On-line Thermal Cameras
Thermal Imaging Scopes
Thermal Imaging Modules
Smartphone Thermal Cameras
UAV Payload Systems